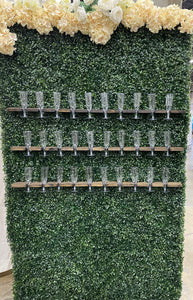 Ivy Wood and Things
Champagne Walls
Regular price
$250.00
$0.00
Unit price
per
Elevate your event to the next level with our exquisite 8x4 Champagne Wall Rental - The Ultimate Statement Piece for Any Celebration!
If you're looking for a unique and glamorous way to serve champagne at your wedding, corporate event, or upscale gathering, our 8x4 Champagne Wall is the perfect choice. This stunning focal point not only adds a touch of sophistication but also serves as a functional and visually captivating piece of art for your special occasion.
Key Features:
Size and Elegance:

Standing at an impressive 8 feet in height and 4 feet in width, our Champagne Wall commands attention and radiates opulence, setting the tone for an unforgettable event.

Quality Craftsmanship:

Crafted with the utmost attention to detail, our Champagne Wall exudes elegance and luxury. Its dark walnut finish adds a touch of class to your event decor.

Functional Design:

This champagne wall is not just for show; it is designed with sturdy wood shelves that securely hold champagne flutes, ensuring a seamless and elegant service.

Versatility:

The timeless design and color palette of our Champagne Wall make it a versatile addition to any theme or event, from weddings to corporate galas and everything in between.

Customizable:

Personalize your Champagne Wall with florals, signage, or LED lighting to match your event's color scheme or branding. Create a one-of-a-kind display that reflects your unique style. (Contact us for custom pricing)

Easy Setup:

We understand the importance of a hassle-free experience, so our Champagne Wall is designed for easy assembly and disassembly, ensuring a smooth and stress-free event. Set up takes approximately 30 minutes to an hour depending on the set up area.

Instagram-Worthy:

Your guests will be drawn to the elegant presentation of beverages, making it the perfect backdrop for memorable photos and social media sharing, amplifying your event's online presence.

Delivery Fee:

Delivery is free within a 5 mile radius of Uptown Charlotte, NC. Additional miles are charged in $50 increments.
6 to 15 miles: $50

16 to 30 miles: $100

31 to 45 miles: $150
Rent our 8x4 Champagne Wall and add a touch of extravagance to your special day. This luxurious and functional centerpiece will undoubtedly impress your guests and create unforgettable memories. Elevate the ambiance of your event and ensure your guests enjoy a champagne service like no other.
Don't miss the opportunity to make your event unforgettable with this glamorous Champagne Wall. Contact us today to reserve your 8x4 Champagne Wall Rental and take your event to the next level of elegance and sophistication. Cheers to a memorable and stylish celebration!
*Please note: Champagne not included.
---